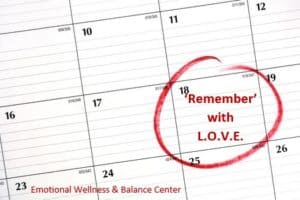 Throughout the years, I have been blessed by walking with so many on their journey of loss, grief and mourning and helping them reach the path of healing. I have also been blessed with a voice to advocate for the griever and educate the non-grievers/companions on how to help their friends and loved ones who are hurting.  Here's one of my favorite tips:
Circle the date of the loss on the calendar in every month for a year. Life resumes normalcy quick after the funeral for friends and companions, yet the griever's life has come to a complete stop, is in slow motion, and time is greatly distorted. While the griever is chartering unknown territory, the pain, lonesomeness, confusion, and so much more slaps 'doses of reality' of the death in their face over and over.
A few months down the road when everyone else is back living their own lives (the out of town company has gone back home, the food and meals aren't being dropped off anymore, the phone calls/texts are few and far between, the flourish of cards and condolences are not arriving in the mailbox anymore) the griever is often left feeling even more lost and alone.
When we (the companion to the griever) 'remember', it brings tremendous comfort to the griever. So, Circle the date and let that be a gentle reminder to you to send a 'thinking of you' card, invite them out for lunch, or swing by for a cup of coffee.  Disconnection is transparent and your act of love and kindness by 'remembering' will bring a sense of connection and diminish the feelings of isolation.
Love and JOY,
Cynthia